Just a few months after opening the Sariaya Fishermen's Dock, San Miguel Corporation (SMC) made good on its commitment to continue helping fisherfolk relocatees at its new sustainable, disaster-resilient community in Sariaya, Quezon sustain their livelihood, by turning over to them 36 fishing boats.
The donation will benefit some 69 fishermen, who used to live in at-risk areas that will form part of SMC's planned P352 million agro-industrial complex investment in Sariaya, Quezon.
They are among the residents of the SMC-built and funded 450-housing unit San Miguel – Christian Gayeta Village gated community that features environment-friendly homes made of "Green Tough" panels that are better than conventional concrete and hollow blocks, are sound-and heat-insulated, and earthquake-proof.
SMC president and COO Ramon Ang said: "We are committed to helping our fishermen families in Sariaya build better lives for themselves by giving them their own homes, providing continuous skills training, resources, and building for them facilities that will enhance their livelihood. We consider them partners in bringing economic growth, jobs, and development to Sariaya and the whole of Quezon province."
"This model of ours of providing housing and livelihood and skills training and opportunities, is time-tested. The only difference is we work to keep on improving it, and today, San Miguel-Gayeta village is our model sustainable village—thanks to the help of residents, local government, and other stakeholders," Ang said.
SMC's planned modern, state-of-the-art integrated agro-industrial complex in Sariaya, Quezon will feature facilities seen to boost the manufacturing, agriculture, and food production sectors overall—seen as key to improving the country's resilience in this time of pandemic.
These include a brewery, grains terminal, feedmill, a ready-to-eat food manufacturing plant, high-tech poultry facility, a fuel tank farm, and port facilities.
Ang said the resident-beneficiaries of the fishing boat donation have long been in the fishing trade, but have been unable to purchase their own boats or had to sell their boats due to poverty or lack of resources.
The donation consists of 33 large fishing boats, to be co-owned by two fishermen, and three small ones for single owners. The boats are just the latest assistance given by SMC to families in the village, which includes construction of various livelihood facilities and skills training programs.
"Fishing is still one of the main sources of livelihood for many residents in our housing community. That is why we built them their own Fishermen's Dock last year and initiated the boat donation program, to help fulfill their dream of finally owning boats. This will enable them to earn more and bring their daily catch to their families and fulfill the food requirements of the housing community and surrounding areas in Sariaya," Ang said.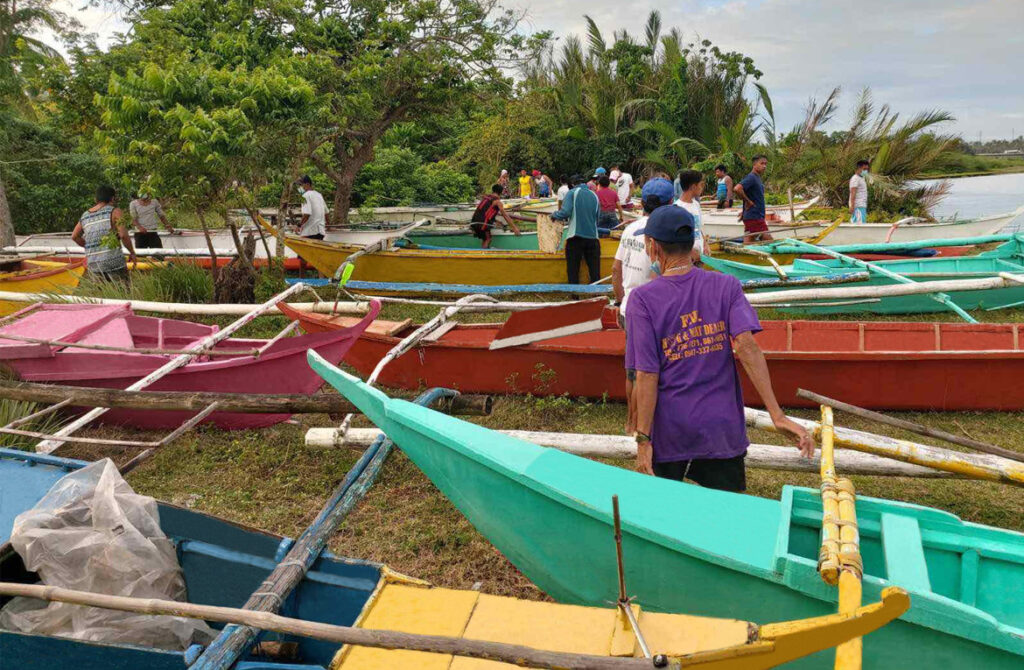 Fishermen-beneficiaries Fil-Am Pelegrino and Henry Gutib, said: "Masayang masaya po kami at nagkaroon na po ng sarili naming bangka, na magagamit namin sa aming pangkabuhayan at pang suporta sa aming pamilya. Binata pa po kami pangarap na namin na magkaroon ng sarili naming bangka. Salamat po sa San Miguel Corporation at kay Mr. Ramon Ang, napakabuti po nyang tao."
Jen Alcala, whose husband Danilo is one of the boat beneficiaries, also said: "Maraming salamat po sa pamunuan ng SMC sa pamumuno ni RSA. Mahirap pong ipaliwanag ang aming nararamdaman pero isa po ang sigurado at iyon ay nakakaiyak."
The multi-purpose Fishermen's Dock, which sits on a 3.5-hectare property, can secure more than 100 boats, particularly during typhoon season. It features the Sariaya Fishermen's Hall, which SMC built to serve as a rest area and storage for 70 boat engines and other fishing implements.
Late last year, an initial batch of 50 trainees from the village completed their skills training in Organic/Urban Farming/Edible Landscaping and Fish/Meat Processing under the Technical Education Skills and Development Authority (TESDA).
"Through a partnership with TESDA, we provided them with additional skills training to enable them to earn extra income, and provided land where our residents can plant and harvest vegetables for personal consumption and sale. We also established a livelihood center where they process fish and meat products," he added.
Also under construction by SMC in front of the village is the San Miguel Market, where fish and other agricultural produce can be sold and other residents can also offer other services and products.
A total of 136 families, who are relocatees from the town's risky coastal areas, have already moved into SMC's 5.4-hectare housing community, which includes 450 houses, a multi-purpose hall, a covered and concrete basketball court, a livelihood center, e-library, and a children's learning center.
In addition, some 127 families are now residing at other areas in Sariaya for a total of 263 relocatees so far. Each housing unit in the community, built under Housing Land Use Regulatory Board (HLURB) standards, has a lot area of 54 square meters that can fit a bedroom, toilet and bathroom, kitchen, dining area, and loft capability. The community also has an overhead water tank with 136,000-liter capacity and a dedicated sewage treatment plant made of natural reed beds.