Not letting up on its pandemic response efforts, San Miguel Corporation (SMC) reported that its food assistance program for families in the poorest districts of Tondo has reached 55,000 kilos of staple goods, distributed weekly to families since the health crisis struck in March last year.
The program is just one of several initiatives undertaken by SMC's Better World Tondo feeding and community learning center.
SMC president Ramon S. Ang said for the past ten months, some 465 families have been receiving grocery products every week from SMC's Better World Tondo community center. The grocery packs consist of meat and other frozen products and various canned goods from SMC's food unit, San Miguel Foods, as well as fish and vegetables. When the COVID-19 pandemic struck last year, the center shifted its operations from providing daily meals to handing out weekly groceries for children attending its after-school program and their families.
"Through our SMC Better World Tondo, we've been able to have a direct impact on the day-to-day lives of our families there. Even if the children are not able to attend daily classes and have their meals at the center, every week, we provide grocery products for their entire families, to make sure they stay healthy, and also help keep more of them at home," said SMC president Ramon S. Ang.
"We assure the families that our San Miguel Foundation and San Miguel Foods will continue this program. We recognize that our poorest families also continue to be the most vulnerable to the impacts of this pandemic, and we will continue to find ways to help them out," Ang added.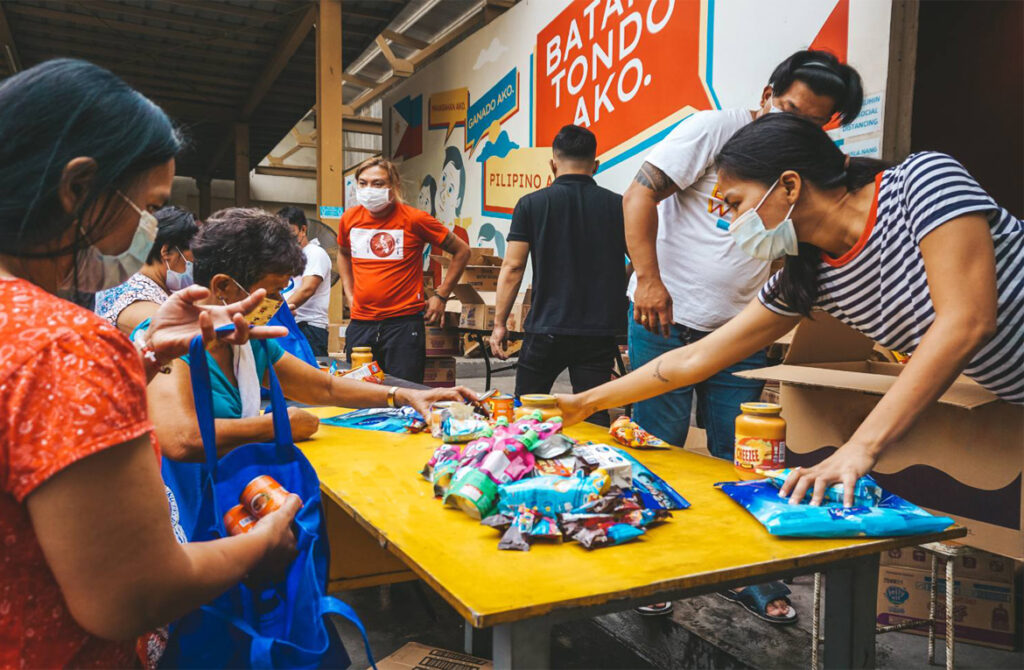 Since the pandemic hit the country in March 2020, SMC has been at the forefront of private sector pandemic response. From the start, it made addressing hunger as one of the main pillars of its response strategy—donating over half a billion pesos in food products to various provinces nationwide.
These included fresh meats, poultry, canned goods, dairy, biscuits, rice, and flour, which was distributed to bakers to make into free or affordable bread for the poor.
SMC also brought back the nutribun, a nutrient and energy-packed bread and donated these to various communities. Eventually, it set up baking equipment at select Petron stations to make sure that free nutribun was available to more disadvantaged communities.
SMC staged a massive food donation drive for some 22 provinces hit hard by typhoons towards the end of the year.
At the height of pandemic restrictions, SMC's Better World Tondo facility also provided daily hot meals for locally-stranded individuals at various ports as well as to fire victims, and other poor communities in need.
On top of providing weekly grocery supplies, Better World Tondo resumed its meal program in December, to help parents who are taking care of their children and helping with their online schooling. The meal program is on a take-out basis.
Outside of SMC's own efforts, Better World Tondo also serves as a platform for other organizations to help more communities. Other major food manufacturers as well as small business owners donate surplus food. Gawad Kalinga also uses its kitchens to prepare food donations for its own programs. Volunteers from the SMC's Tondo beneficiary families also regularly help prepare food, especially for other communities.
Better World Tondo is the first center under SMC's sustainable communities initiative. SMC utilizes its idle, unused properties and turns these into community centers that address critical issues.
Its second center, Better World EDSA, is a COVID-19 testing laboratory that has served to boost the country's testing capacity and offers quick and affordable RT-PCR testing. Meanwhile, Better World Diliman provides local farmers a ready-market for their excess produce, increasing their income and lessening food waste.