Are you starting the year 2021 in Metro Manila? Visit Araneta City and celebrate the New Year with tons of amazing surprises.
Listed below are all the fun and exciting holiday activities in the City of Firsts where you can safely participate:
New Year's Day Free Delivery
Open the year worry-free and seamless as the City of Firsts gives a FREE delivery promo to all delivery transactions made via the ARANETA CITY ASSIST, courier service on January 1, 2021, from 8:00 am to 9:00 pm.
Download the Araneta City mobile app, go to Araneta City Assist, and use the promo code HAPPY NEW YEAR to avail the free delivery service.
New Year Mass
Shoppers and diners at Araneta City may join the mall masses – Gateway Mall chapel at 6 pm, Ali Mall chapel at 12:30 pm, and Farmers Plaza Chapel at 5pm.
Strict social distancing and health precautionary measures are in effect in Araneta City chapels.
Grand Fireworks Display
Witness the amazing fireworks display at the Times Square Food Park on January 1 at 7pm.
This can also be viewed in different locations in Araneta City as the fireworks will brighten up the city sky.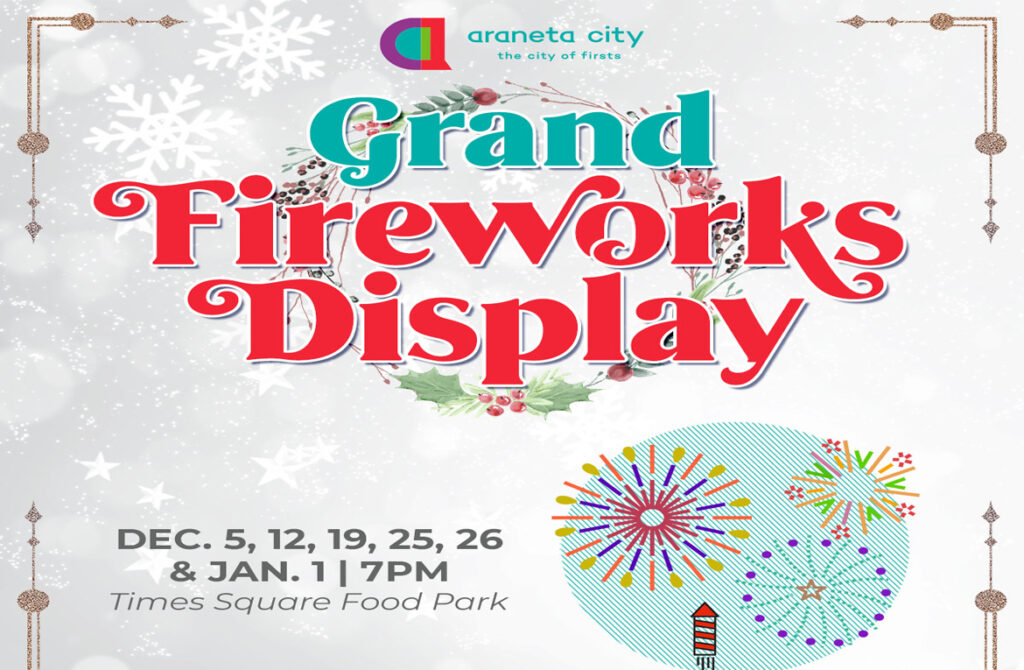 Outdoor Dining
The Times Square Food Park remains open until January 10 from 3pm to 11pm to give an al-fresco feels under the warmth of a Giant Christmas Tree. Choose from a wide variety of holiday street foods and cuisines as you share countless memorable experiences with your friends.
Open hours will be shortened on December 31 and January 1 from 3pm to 9pm only.
On December 28 to January 10, diners will be serenaded by the music of budding artists JC Laborte and Jay Musngi at the Times Square Food Park.
Araneta City Expo opens along Romulo Ave. with more food choices from the Max's Group, including Max's, Yellow Cab, Krispy Kreme, Pancake House, Teriyaki Boy, Max's Bakery, Jamba Juice. Dig in with appetizing feast and drinks in Araneta City Expo from 10 am to 6pm.
Mall Christmas Bazaar
Christmas Bazaars in Araneta City continues to give more opportunities to shoppers to wrap up the holiday season with amazing finds for you and your love ones.
Treat yourself with exquisite items from Digital Plaza, Infonec, and Mighty Blue Hobby Shop in Gateway Mall Activity Area from December 27, 2020 to January 2, 2021.
Support local talents in Ali Mall Activity Area as J. Amado Araneta Foundation's recognized Resilient Pinoy Sellers introduce their craft and products to shoppers from December 27, 2020 to January 2, 2021.
Level-up your game in Farmers Plaza Activity Area with high-tech loots from Gadget Central and Farmers Bazaar lessees from December 24, 2020 to January 2, 2021.
Grand Clearance Sale
Get discounts on numerous great finds on any Araneta City store this long New Year weekend until January 17, 2021. Stores in Gateway Mall, Ali Mall and Farmers Plaza will be giving as much as 70% off on select items as Christmas gift to all shoppers and mall-goers.
Joyful Treats Promo
Inch your way closer to winning at the Joyful Treats at the City of Firsts raffle promo, as entries are doubled when one purchases and presents receipts at designated redemption booths from December 24, 2020 to January 3, 2021, and from January 15 to 30, 2021.
Hoping for brighter days ahead- adapt and thrive this 2021 at the City of Firsts.
#Brighter2021atAranetaCity #CityOfFirsts